Aluminium Sliding Stacking Doors
Glass Sliding Stacker Doors
Why Choose Us?
A part of our popular AA series, Rylock Windows & Doors manufacture, supply and install  stacking doors throughout the Greater Melbourne Region.
With flush, modern designs, our stacker doors enhance any area. Whether you want a door to show off a view or to show off itself, Rylock WIndows & Doors have the designs for you. Classic or contemporary, and wholly customisable, our aluminium stacker sliding doors add light, space and airflow to any home.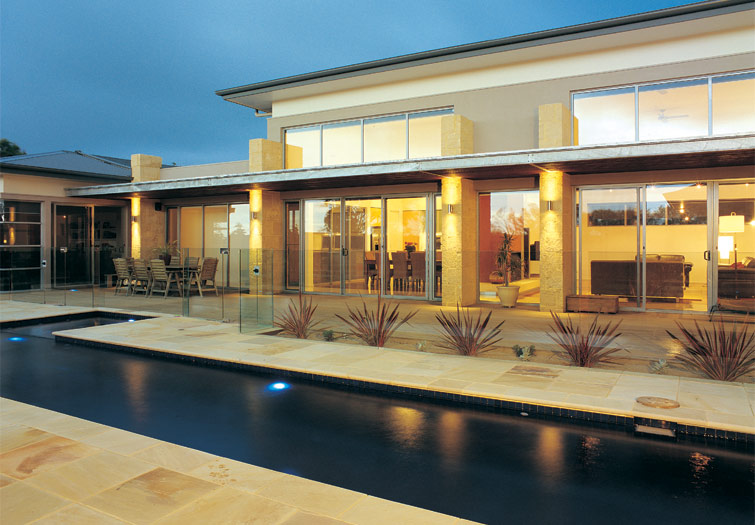 Energy Efficient Glass Stacker Doors in Melbourne
As standard, all of Rylock Windows & Doors' products come with a 6-star energy efficiency rating. In line with state and federal legislation, we work to ensure all of our products help our clients cut down their energy costs and protect the environment.
Choosing Rylock Windows & Doors stacker sliding doors is a great way to maximise light and airflow in your home or business, without sacrificing energy efficiency. When you commission a Rylock Windows & Doors stacker door, our service representative will work with you to determine your energy efficiency needs, environmental concerns and door requirements to make sure we design the perfect sliding door.
Depending on your requirements, including your Bushfire Attack Level (BAL), we may recommend a double-glazed stacker door. Double glazing can increase your home's energy efficiency, soundproofing, security and insulation, so talk to us today about your double glazing options.
100% Customisable Aluminium Stacking Doors
Because our products come with a seven-year manufacturer's warranty, we want to make sure your made-to-order stacking door is right for your home. Our aluminium stacking doors are 100% customisable, so our service representative will help you choose every feature of your new door, including:
Size
Colour
Glazing
Finish
Handle
Security
Flyscreen
Design
Tinting
Alternatively, you can choose from our pre-designed sliding door packages. Discuss our pre-designed sliding doors during your free on-site consultation or at our showroom. Pre-designed or individually styled, no matter what you choose, your Rylock Windows & Doors product is made-to-order to ensure a perfect fit every time.
The
Rylock Windows & Doors
Experience
Whether you are installing your aluminium sliding doors in a new building, replacing your existing sliding door, or are converting an existing door into a Rylock Windows & Doors stacker door, our team will be with you every step of the way.
We begin with a free on-site quote, in which our service representative discusses our products and your requirements. The space of your future aluminium stacker sliding door is then measured and your design constructed.  Our skilled carpenters, and bricklayers if required, prepare the space for your new, converted or replacement stacker door. Following its installation, our experts then restore the space and remove the previous door, resulting in a smooth, completed finish.
Supply-only products are also available for professional builders, renovators and construction companies. For the complete range of Rylock Windows & Doors' products, visit our showroom today, or contact us for a free on-site consultation. We manufacture and install:
Doors
Sliding
French
Bi-fold
Hinged
Acoustic

Panel

Specialised
Windows
Awning
Acoustic
FixedLite
SuperLite
Louvre