Double Glazed Windows | Melbourne
Rylock Windows & Doors
are the go-to supplier of double glazed windows in Melbourne and throughout Victoria. Our double glazed windows are made to order so are perfect for your renovation, new build, restoration or
window replacement
.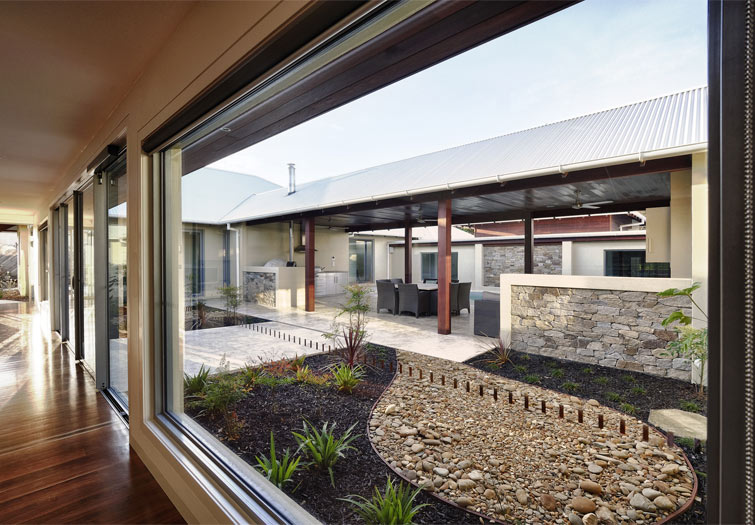 Benefits of Double Glazed Windows for Melbourne Homes
Insulation and Energy Efficiency
Double glazed windows have two panes of glass instead of just one. This extra level helps insulate your house against temperature fluctuations and excess noise. Using double glazed windows can make your home more comfortable, and by keeping your home's temperatures more stable, double glazed windows can help with your energy bills as well.
Victoria's climate can go from very cold in winter to very hot in summer. Rylock Windows & Doors' double glazed windows are manufactured to meet the extremes of the Australian climate. Double glazed windows help your house to maintain its temperature, keeping your rooms cool in summer and warm in winter.
Climate Protection
When you commission a Rylock Windows & Doors double glazed window, we work with you to establish the level of climate protection your windows require. This depends on a number of factors, including the direction your window is facing, the amount of shade covering the window and your building's Bushfire Attack Level (BAL). We do this to make sure your custom-made double glazed window is the perfect fit.
Noise Reduction
Windows that are double glazed not only keep out outside heat, they also reduce the amount of outside sound entering your home, business or studio. Aeroplanes, barking dogs, street traffic, foot traffic, noisy neighbours or your own air-conditioning unit, whatever the noise, a double glazed window can help insulate your room against it.
Security
With Grade-A safety glass, Rylock Windows & Doors' double glazed windows are thicker and harder to break. Not only do they keep temperatures in, but they also keep burglars out. Special installation techniques mean that the glass is seamlessly embedded in the window, making it much harder to pop out.
When you order a Rylock Windows & Doors double glazed window, you can customise its level of security further by choosing from a range of single lock, dead latch and patio bolt options. During your free onsite quote, ask your sales consultant about installing double glazed windows for your home or business security.
Supporting Local Industries
Based in Nunawading, Rylock Windows & Doors have been installing double glazed windows in Melbourne for over 26 years. With modern, flush designs, our double glazed windows are made from long-lasting aluminium and are designed specifically to your requirements.
We work with you to offer clear, concise quotes based on your requirements. Our double glazed windows are designed, measured and manufactured to fit your needs. And with a 7 year warranty, we work hard to make sure you're 100% satisfied.
We offer double glazing on all of our windows and doors, including:
Windows
Fixed Lite
SuperLite
Awning
Operator Casement
Casement Sliding
Double Hung
Louvre
Acoustic
Specialised
When you choose a Rylock Windows & Doors double glazed window, you are ensured:
Maximum customisation – our products are manufactured per job, allowing our customers to customise every aspect of their double glazed windows.
Quality – we make and install all our own products so we can guarantee quality. We offer a 7 year manufacturer's warranty on all our double glazed windows.
Complete service – we supply all aspects of design, preparation, installation and post-installation carpentry/ brickwork for your peace of mind. We don't leave a job half-done!
An Australian product – our Melbourne-based team use local products to design, build and install your double glazed windows.
Read more about Rylock Windows and Doors' double glazed windows in our free pdf. And remember to contact Rylock Windows & Doors today for a free onsite quote to start feeling the benefits of a double glazed window!