Made-to-order Aluminium Awning Windows from Rylock Windows & Doors
With over 26 years' experience, Rylock Windows & Doors are the custom window suppliers Melbourne trust. From design, through manufacture, to installation, Rylock Windows & Doors  are proud providers of high-quality products, including made-to-order awning windows.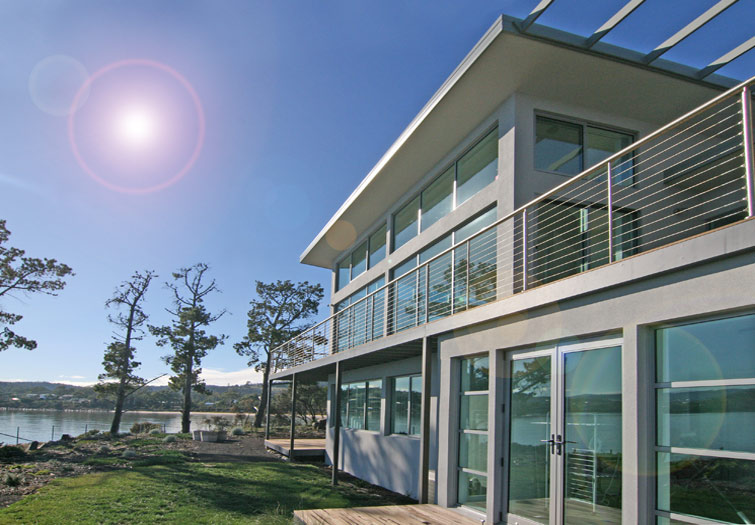 Customisable Awning Windows
Because Rylock design, manufacture and install their awning windows, we are able to customise almost every aspect. When clients commision a Rylock awning window, they can specify:
Frame colour

Configuration

Measurement specifications (height, width and depth)

Reveal type (primed, raw hardwood or plaster)

Operator type (chain-winder, latch or electric)

Operator colour
Flyscreen

Mesh type

External frame infill

Sill flap

Glass type and tint

Glazing (single or double)
Opening restrictions
No matter what your requirements, our custom awning windows are built to last. And because we manufacture our own products, we are able to give a seven-year manufacturer's warranty, giving you peace of mind for years to come.
The Benefits of Awning Windows for Melbourne's Homes and Businesses
Style
Rylock Windows & Doors are made to order. This means that clients can choose both the scope and style of their awning windows. Clients can preference latches, colours, tints and accessories, as well as security features, including locks, mesh and flyscreens. Whatever they choose, when they commision a Rylock awning window, Melbourne clients will get a beautiful, high-quality awning window made to last.
Ventilation
Awning windows are excellent ventilators. With their downward-facing openings, awning windows allow for airflow rain or shine.
Awning windows are designed such to allow air, but not the rest of the environment, from coming in. Protected from rain, harsh sunlight and the perils of wind, awning windows are a great choice for windows exposed to the elements.
Their increased environment protection does not decrease ventilation. The double action sash creates a breathable gap at the top of the window when opened to increase air flow without sacrificing security.
Insulation
Nor do awning windows sacrifice on insulation. Like all Rylock windows and doors, our awning windows are available with single- or double-glazing. During design, our technicians will work with you to understand your insulation requirements: sound, heat and security. Based on your answers, we will recommend a window for your needs.

Our awning windows, whether double- or single-glazed have 6-star energy ratings. For the utmost in temperature, noise and weather protection, our awning windows come with double seals on opening sashes and are designed for the Australian environment.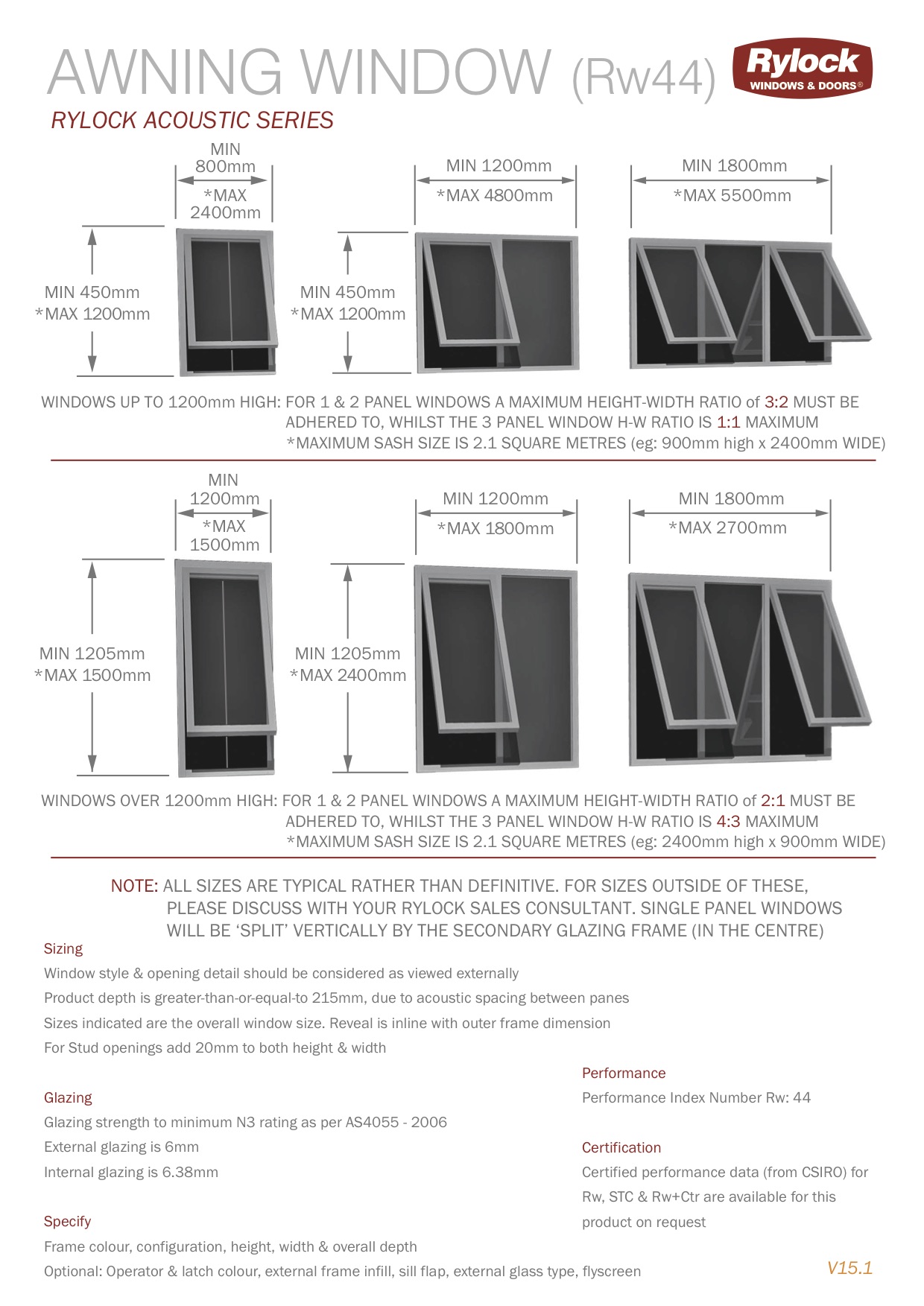 The Rylock Process
We work with our clients to offer clear, concise quotes on all our designs. We work to understand their needs, whether they require a window installation, replacement, conversion, or simply wish us to supply a made-to-order awning window for their own installation.
Our craftsmen begin by visiting our clients for an on-site consultation where, based on the clients' design and requirements, we provide a free, no-obligation quote. From there, we manufacture their custom awning windows. Melbourne residents will be pleased to know that their modern, flush designs are brought to life by local manufacturers using domestic aluminium.
Following manufacture, our expert craftsmen prepare and modify the existing space for installation. Once the product is ready, we will professionally and seamlessly install your new awning window. Rylock Windows & Doors craftsmen never leave a job half-finished, and will restore the surrounding area following installation.
Other Rylock Products
Our 6-star rating windows and doors are 100% customisable, can be single- or double-glazed, and can come in 25 powder coat colours. Anodised options are also available. Contact us today to discuss your custom windows. Melbourne residents are also invited to visit our showroom where they can view examples of all our products, including:
Windows
Louvre

SuperLite

Fixed Lite

Operator Casement

Casement Sliding

Specialised