Rylock Windows & Doors have been manufacturing custom aluminium windows for over 26 years. In that time, we have made countless quality windows for Melbourne's homes, businesses and construction industry. Whether you need a window replacement, conversion or installation, or even a supply-only service, Rylock Windows & Doors will have what you need.
Our windows are all made-to-order. That way, we can guarantee that our clients get a product to suit their needs. Our clients can customise 100% of their Rylock windows. We can design, manufacture and install windows for any size and shape. For more information on our custom aluminium windows, visit our product pages, or read more below.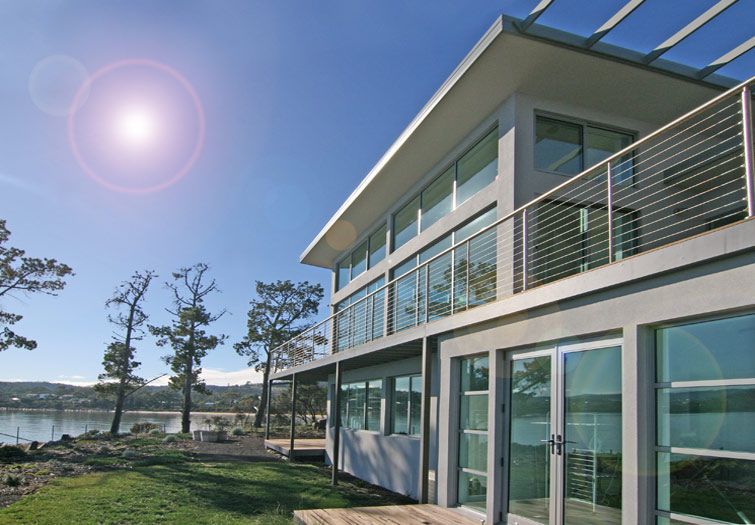 Acoustic Windows
Depending on your needs, all of our windows can have more or less noise insulation. Our acoustic series was developed when we noticed an increasing number of clients requesting noise-reducing windows. Acoustic windows are available as awning, casement, fixed line or double hung.
Awning Windows
Awning windows are great for round-the-clock ventilation. Downward-facing, awning windows can be kept open in sunlight and in rain. Our clients can customise their awning window security, specifying latch kind, glazing and style.  
Casement Sliding
These traditional windows are as timeless as they are reliable. Get the style and finish you like, with double-glazing, latch and security options for your ideal, custom aluminium window.
Double Hung
Double hung windows can open at both the top and the bottom. Space-saving, these windows are an elegant approach to controlling your air flow.  With custom aluminium window frames and sills and over 25 powder coat finishes to choose from, double hung windows are a popular window installation choice.
Fixed Lite
Our fixed lite windows are custom-built for size. We can place multiple units together, creating impressive feature walls of up to 7.5 square metres. These custom windows can be double-glazed for insulation and tinted for privacy.
Louvre
Clients who commission louvre windows often do so for privacy. Downward-facing, like awning windows, louvre windows provide privacy without sacrificing ventilation.
Operator Casement
Operator casement windows encourage cross-breezes, making these windows great for ventilation. Clean looking, these custom windows have tight seals to protect your home against the weather. Double glazing and tinting are available, as are a range of powder coats and finishes.
Super Lite
Like fixed lite windows, our super lite range are custom made feature windows. Our super lite windows and are primarily designed for large, fixed spaces. In addition to size, glass type and coating, clients can also specify infill and reveal types.
For more window options, for a free on-site quote or to visit our showroom, contact us at
Rylock Windows & Doors
today. Our friendly staff will be happy to answer any of the questions you may have about commissioning a custom aluminium window. So call now.