Why should you Install Aluminium Windows and Doors?
Have you ever admired the beautiful, unobstructed views that some properties seem to have? Have you noticed how huge glass panes give an airy and open feel that can completely transform a room or a building? Aluminium windows are the key to achieving the look and feel you want.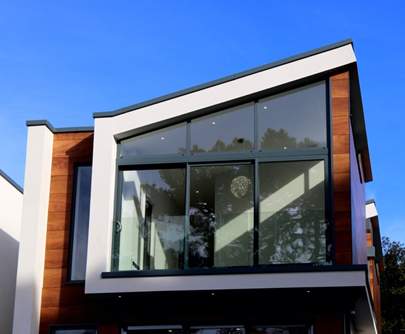 What are the Advantages of Aluminium Windows and doors?
The strength of aluminium means that you don't need a bulky, heavy and unsightly frame. Your aluminium window frame can hold a large piece of glass and still provide strength and support while still maintaining a smooth and slim aesthetic.
Aluminium frames are durable and resistant
Aluminium is low-maintenance and weather resistant which means you can achieve a sleek and modern look that lasts for decades. Aluminium's impermeable and corrosion-resistant properties give it longevity – meaning it won't crack, split or rot – so your windows and doors will open and close smoothly and seamlessly.
Aluminium window frames are versatile
Is the window in your new build a slightly awkward size or design? That's not a problem: with our made to measure service, we can build to the size and design to suit your needs.
Do you have a specific look or colour in mind? Your window or door frames are powder coated during the manufacturing stage and never have to be painted again. The durability of powder-coated aluminium delivers long-lasting results, maintaining its colour for years to come.
By now you know that aluminium won't rot or crack and will retain your chosen colour but how do you keep it looking good? A wipe with a damp cloth will do the job, no intense cleaning is required, and any stray window cleaning spray won't affect the paintwork either. It's a win-win.
Consumers are increasingly environmentally-conscious and aluminium is a great choice if you're looking to build more sustainably, as it is one of the very few materials that can be recycled infinitely without compromising its integrity.
Aluminium Window Frames and Door Frames are Value-adding
Aluminium frames are a sought-after selling point in the housing market and will add value to your home or commercial property.
Based and manufactured in Nunawading, we serve the entire greater Melbourne region. We will work with you to ensure you receive personalised service and we strive to meet all your needs.
We offer:
Free Onsite quotations
Manufacture according to your specifications
Prepare/modify the space for installation
Professional installation
Removal of unwanted door and window frames
You can't go wrong with our 7-year manufacturers' warranty and best of all our products are Australian made and owned.