Custom Aluminium Doors
For since 1994, Rylock Windows & Doors have been manufacturing and installing custom aluminium doors. Melbourne and its eastern region know they can rely on Rylock Windows & Doors for custom, quality aluminium doors and their installation.
RYLOCK'S CUSTOM ALUMINIUM DOORS
Our aluminium doors are made locally, using local products, local designers and local manufacturers. Because our doors are all made-to-order, every one of our products is tailored to the client's needs. When you commission a Rylock custom door, you can specify security, style, size, shape, glazing and more. So contact Rylock Windows & Doors for a free on-site consultation, or visit our showroom today.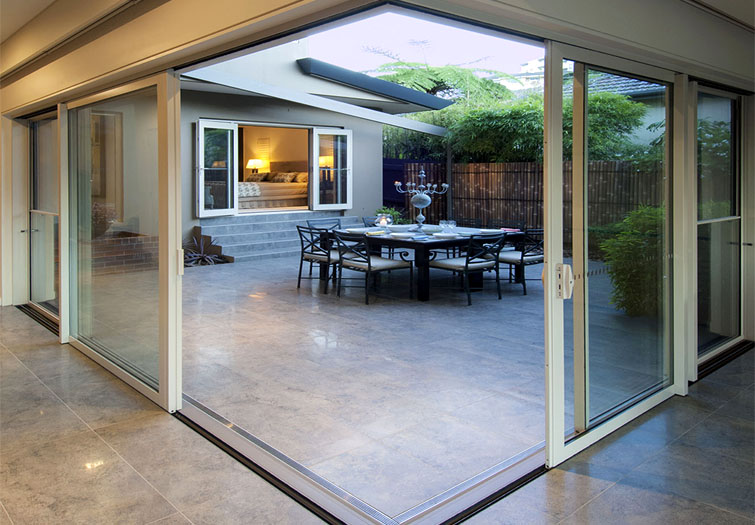 WE OFFER A WIDE RANGE OF ALUMINIUM DOORS, INCLUDING:
SLIDING DOORS
Our sliding doors create great open spaces. Tinted or clear, you can control how much light you want your sliding door to let in. Single or double glazed, we can also control for sound. Whatever your requirements, because our products are made to order, we can manufacture a custom sliding door that is right for you.
STACKER DOORS
Like sliding doors, stacker doors are ideal for entertainment spaces. A stacker door can combine indoor and outdoor dining spaces when needed, with the same security, sound and weather control of any other one of our products. Made-to-order, we are able to provide stacker doors to your size requirements.
HINGED
All of our doors, including our hinged doors, come with a seven-year manufacturer's warranty. When they purchase a custom aluminium hinged door for their new home, business or renovation, our clients know they are getting peace of mind.
FRENCH DOORS
French doors, often leading to a garden or terrace, let light shine into your home. Our clients can customise their French doors for a modern take on this classic door.
ACOUSTIC DOORS
Our acoustic range are great for when you need to control the noise coming in our going out through your door. Garages, industrial workspaces and studios all benefit from noise-cancelling acoustic doors. Ask about making your sliding door an acoustic one.
SPECIALISED
If you have your own design in mind, we can manufacture that too. No matter what your design or your needs, most of our doors can be made to suit up to Bushfire Attack Level (BAL) 29. When manufacturing your custom aluminium door, we will work with you to create a climate-appropriate door you can feel at home with.
PANEL DOORS
Solid and secure, our panel doors, like all of our custom doors, have built-in weather seals. Our carpenters will install your panel door with expertise and precision, protecting it and the jamb for years to come.